The MAB UNESCO Biosphere Reserves: a global network of excellence
The operational arms of the MAB Programme are the Biosphere Reserves, terrestrial and/or marine areas recognised by UNESCO as examples of implementing sustainability. To be recognised as a Biosphere Reserve, an area must both boast ecosystems that are representative of different biogeographical regions and significant for the conservation of biodiversity, and be populated by communities that aspire to experiment, test and apply approaches for sustainable development, providing local solutions to global challenges and disseminating the outcomes to all stakeholders.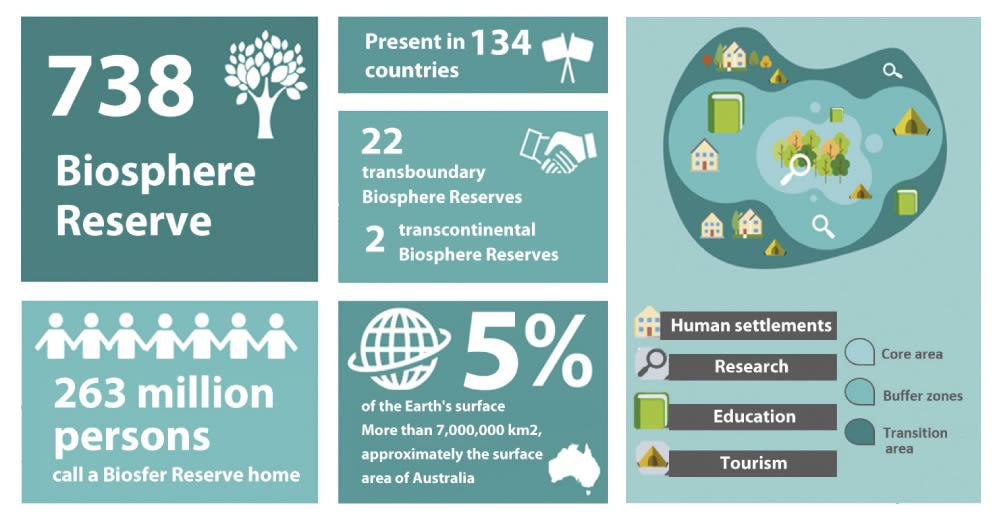 Each Biosphere Reserve fulfils three main and equally important functions:
conservation of biological diversity, ecosystems, landscapes and cultural diversity;
local development according to "sustainable" territorial management models;
support for education, research, monitoring projects related to conservation and local, national and global sustainable development.
The three functions are pursued throughout the Biosphere Reserve with varying intensity depending on the zoning, which identifies one or more "core" areas, mainly dedicated to conservation, some "buffer" areas, adjacent to the core areas to facilitate their protection, and some 'transition' areas where sustainable development is realised.